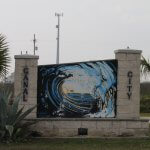 Call for more information. 409-684-2000.   Development was installed for future add-on to deck for home.   
Canal City Subdivision is Located:  Bay side off Hwy. 87 in Gilchrist, TX.   Lies between High Island and Crystal Beach, TX.    
 Call for Appointment 409-684-2000.   Ask for Suzy Chapman.   Text:  409-795-9130.
  Email: setx.hamiltonrealestate@gmail.com
All information is Deemed Reliable but should be verified.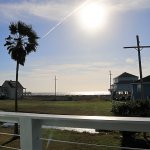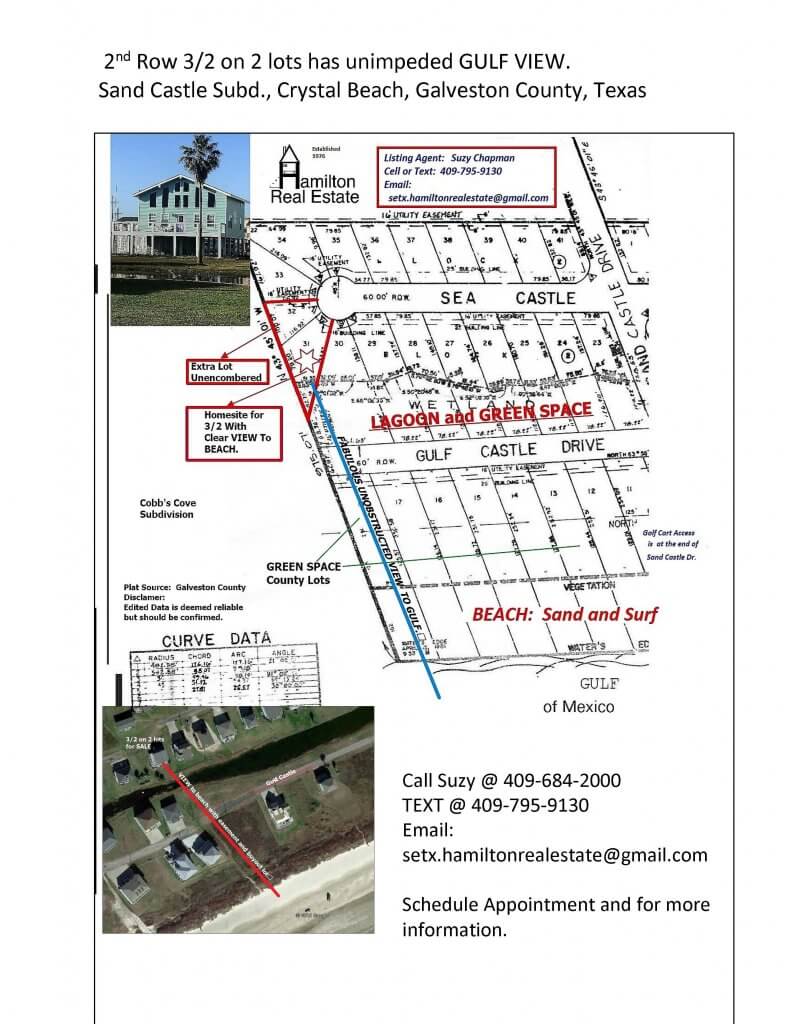 Click on the link below for printable plat of where this custom home is located.    All information has been confirmed with Galveston County Records.
2ND Row Cul-de-sac lot. Call for Appointment or Preview: Call/Text Suzy Chapman 409-795-9130. This lovely home is owner's homestead. Please call for appointment.
Compliments of Remax on the Water.

                                 820 Casa, Crystal Beach on Bolivar Peninsula
 

Please call for Gate Code and appointment.                                409-684-2000
Accreting Beach on the Texas Gulf Coast .     Enjoy the Open Beach and the views of Galveston Sky-line.
Beach & Golf Course, just to name a few of the amenities.   Lot was built-up and elevated.  READY TO BUILD!  Located in Rancho Carribe, gated subdivision; Spacious lots and platted for views! Has Golf Cart Access to Beach. Lot is located at the end of Overlook (east side of Subd.) Perfect for a home situated with views of the Gulf, Bolivar Bayou Lagoon and Golf Course. The lagoon offers a special feature to appreciate the migrating birds and the rosette spoonbills. Wide sandy beach that acretes. Close to the Galveston ferry landing, shopping and restaurants of Crystal Beach. 3rd row CORNER lot that offers a quiet setting with the waterfront lagoon, Beach views, Golf Course Green Space.  A perfect spot for Coastal Living. Fishing: Close to bay boat launch at Boyt. Rd. or Gulf launch in Port Bolivar. Surf Fishing just off of the Beach Entrance. All plans are subject to Galveston County requirements. Utilities and internet are available.  Homesite will accommodate almost any floor plan.  Plans are available upon request. 8 miles from the Galveston Ferry Landing in Bolivar and 20 miles from High Island.
Plat Source:  GCAD.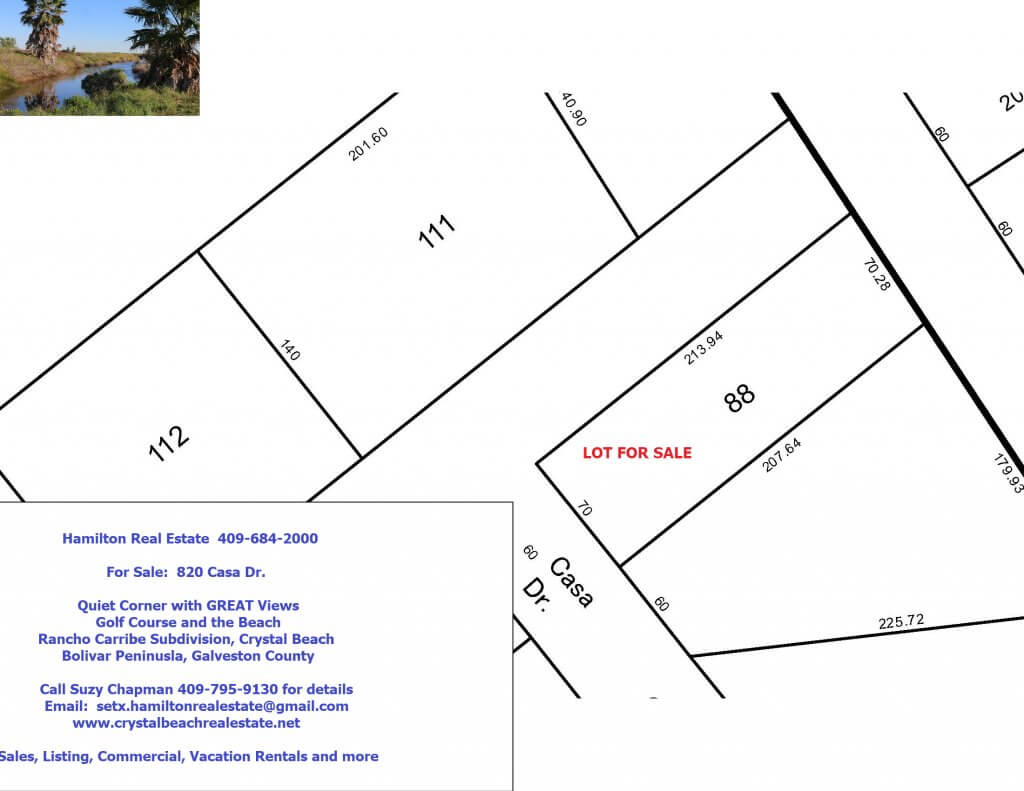 For Golf Course Information Please Click on THE RANCH LINK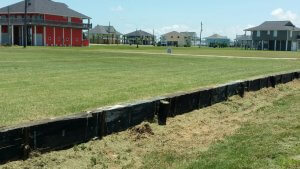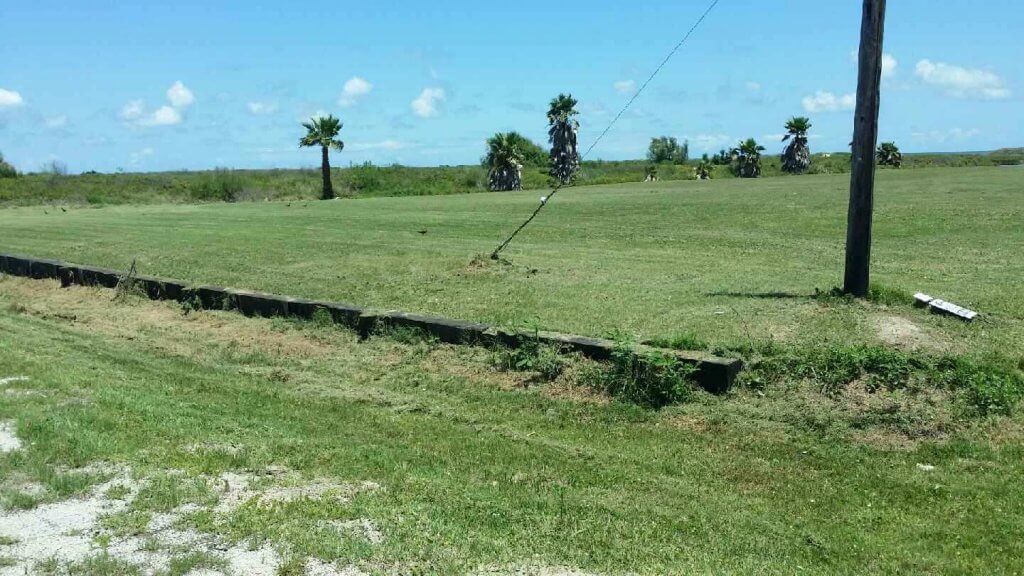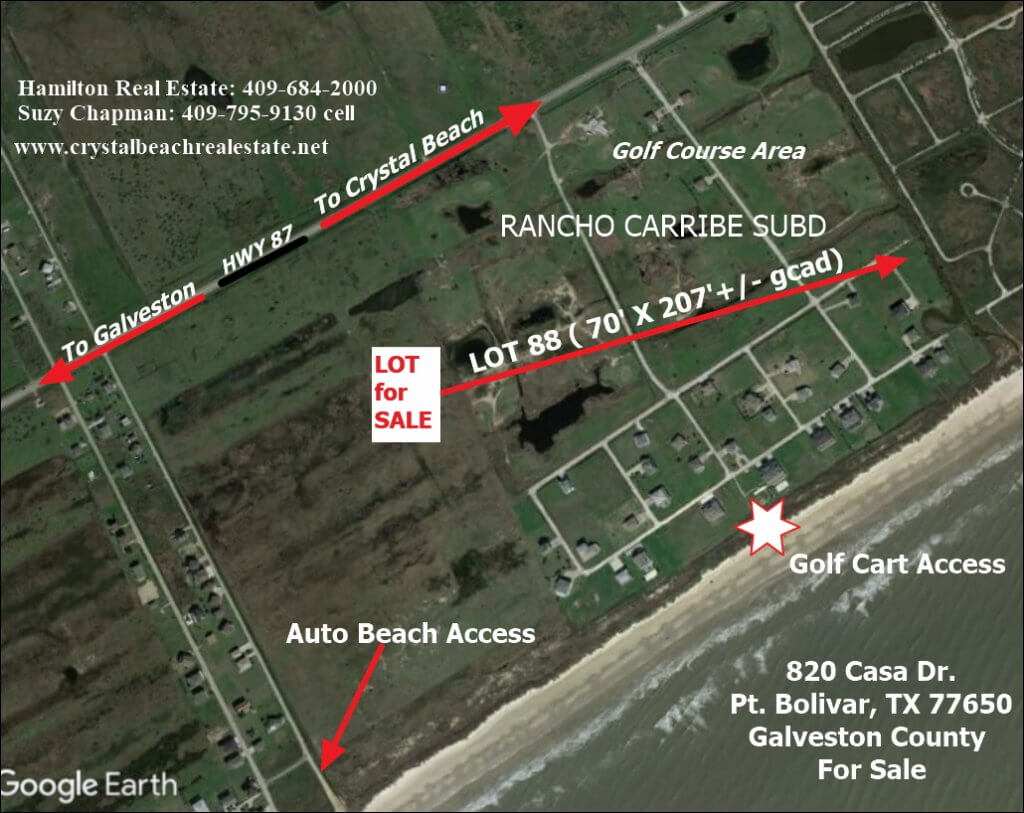 Information Herein Deemed Reliable but Not Guaranteed
SOLD
Crystal Beach, TX 77650        Listing Agent:  Hamilton Real Estate, Suzy Chapman setx.hamiltonrealestate@gmail.com
Located on the west side of Bolivar Peninsula.   Over 2000 SF of gracious living space.

Incredible views from huge deck, grand room and master bedroom.

Call for your private tour.

Complete covered access up to main level by the enclosed elevator in garage.  Designed to be accessible for all ages.  Elevator accommodates wheel chairs, walkers, and strollers.

Wonderful family home with 3 large bedrooms, each with its' own bath. Large grand room with 1/2 bath.
SOLD! 3/2/1 updated home on large shaded lot. Close to Hwy. 365 and Hwy. 69
2816 Ave M Nederland Texas 77627
Located in Nederland, Texas
House sits on a quiet street on a large lot.     Completely updated.    Hardwood floors and tile.     Great Neighborhood.    Convenient to Central Mall and local retail area.
Additional Details
Bedrooms: 3
Bathrooms: 1
Property Type: House
10 Commandments When Applying for a Mortgage Loan
Thou shall not change jobs or become self-employed
Thou shall not buy a car, truck or van unless you plan to live in it
Thou shall not use your credit cards or let your payments fall behind
Thou shall not spend the money you have saved for your down payment
Thou shall not buy furniture before you buy your house
Thou shall not originate any new inquiries on your credit report
Thou shall not make any large deposits into your bank account
Thou shall not change bank accounts
Thou shall not co-sign for anyone
Thou shall not purchase ANYTHING until after the closing
This is some advice to follow from the time you apply for a loan until closing and funding occurs.    Please check with your loan officer to see how these actions would affect your eligibility.
Need to be Pre Qualified?    Please Contact  for lender Information.
Suzy Chapman, Realtor
Hamilton Real Estate
1-409-684-2000 or 1-409-684-9130
                 Incredible  Views of the BEACH