151 Ocean Shores Dr. Crystal Beach, TX 77650: 4/3 with Beachfront VIEW on Bolivar Peninsula. Views of Galveston Sky-line. Just off Boyt Rd. Completely Furnished.
151 Ocean View Crystal Beach Texas 77650
Located in Crystal Beach, Texas
Description
Beachfront View:   2nd Row from Beach. Views from all front windows.  Upstairs bedrooms have access to veranda covered deck.
Easy Walk to beach with easement.   Easy Drive to open beach from Boyt Rd. access.  Easy boat launch to from N. Boyt Rd to the Bolivar Yacht Basin.
Currently on vacation rental program:   Appointments PLEASE!
Upper level has Master suite, 2 additional bedrooms, and full-bath. All bedrooms have access to covered veranda deck/ Bedrooms have closets. built - in storage and ceiling fans.
Ceiling Treatments:
1st main level:
Large GRAND room with built- ins. Bunk Bedroom with north deck access.   Laundry below the stairwell;  room for full-size side by side electric washer and dryer (included)
Well-appointed Kitchen with lots of cabinets and  counter-top space.  The Sit-down bar is convenient for breakfast area or buffet style serving.    View of the Gulf through the kitchen and dining windows while preparing those special meals.
Windows are shaded from the upper level deck. Large covered and uncovered deck, the main entertaining area for the home.
Ground Level: Enclosed outdoor shower to wash the sand and beach toys off with. Plenty of room to park. Aerobic Septic in Back yard. Internet is available.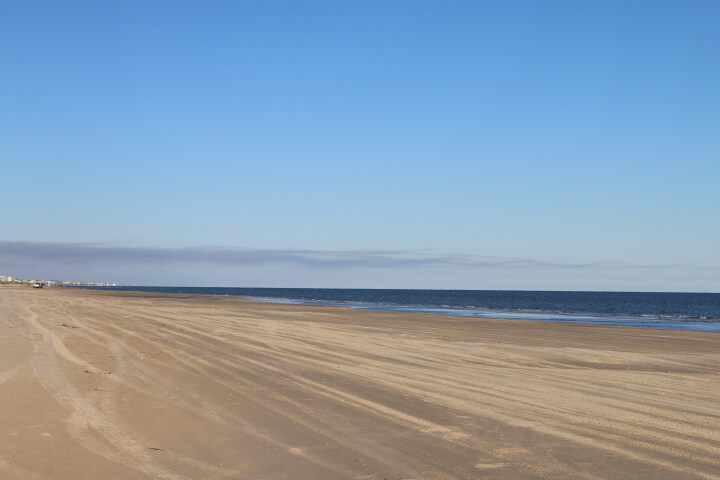 Location:  Golf Cart/auto access to beach of Boyt Rd. Bring you kayak, fishing, tackle, etc.  Widest Beach (accreting) in this area of Bolivar Peninsula. Located close to Galveston Ferry Landing on the Bolivar Point. Binoculars are a must to bird-watch. Convenient to boat launch for Bay fishing at the Bolivar Yacht Basin or Gulf access at the Jetty.    Appointment Please for showing or previewing.
 This is a vacation rental. It may fit your needs for a 1031 exchange. Camp Fires and Driving on the beach are allowed. Ocean Shore is a county accepted road. Internet is available. Property is FEMA insurable. Has Elevation and WPI8 certificate.  Over-sized  Aerobic system.


4 Bedrooms, Sleeps 15


King size beds (1) In the Master, Queen size Beds (2), Double Beds (2) The double beds are listed in the bunk bed category, Twin or Single Beds (5) Three of the single beds are custom 8' x 3' with futon mattresses. 2 are normal twins and are bunks., Baby Cribs (1) Pack and Play in closet, Bunk Beds (2) One double bunk bed set One twin bunk bed set Both in kid friendly room downstairs


Additional Details
Bedrooms: 4
Bathrooms: 3
Location Details: Turn toward Beach from Hwy. 87 on Boyt Rd. 2nd Row with Beach front view
Notes: All information is to be deemed reliable but should be verified.
Contact Details
Contact Email: setx.hamiltonrealestate@gmail.com, suzy@crystalbeachrealestate,net
Contact Phone: 406-684-2000
Contact Cell Phone: 409-795-9130