West End of the Bolivar Peninsula and Crystal Beach, TX Easy road access to the Beach. Minutes to Ferry Landing.
SOLD: Lot 73 on Johnson Crawford Cir.
0.285 acre Lot on Salt Cedar is Sold. Lots on Johnson Crawford are Available.
All utilities are available. Building Permits need to go through Galveston County. We can help you find your CUSTOM HOME BUILDER.
CONTACT FOR MORE INFORMATION: SUZY CHAPMAN @ setx.hamiltonrealestate@gmail.com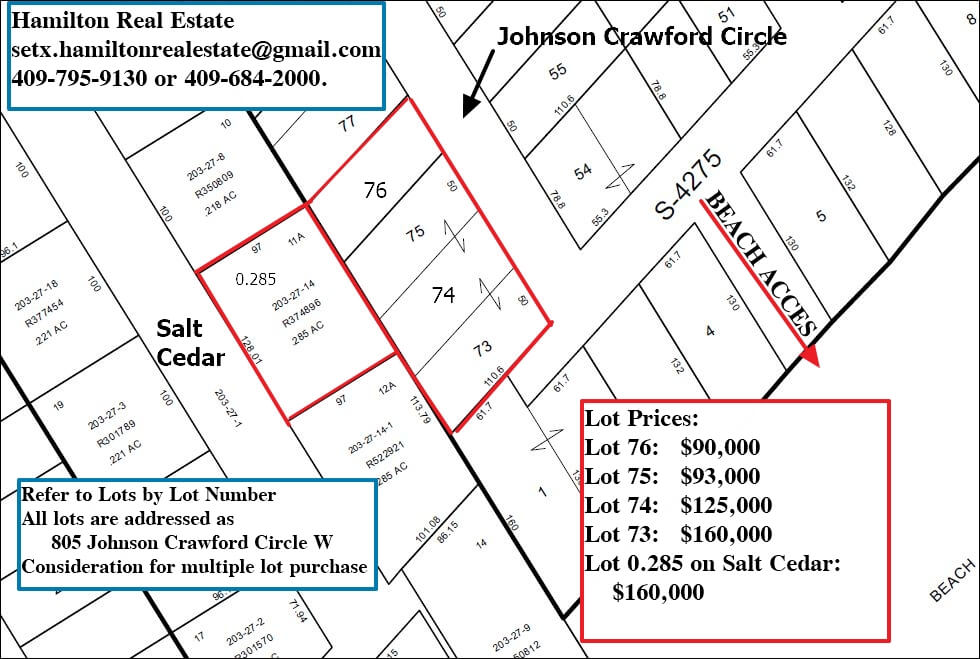 Turn towards Beach of Hwy. 87 on Salt Cedar to get to this glorious 3rd lot with a 2nd row feel.
Vacation Rentals are allow in the neighborhood.
Buy two and get a spacious lot for your future home.
Bird Watchers Haven. Not far from the Bolivar Flats and about 15 minutes to High Island sanctuaries.
Wide dunes and beach. Wonderful area to come and have BEACH FUN!
Call: 409-684-2000 (Office) Shirley Hamilton, Suzy Chapman or Dana Robinson will be glad to help you
Text: Suzy @ 409-795-9130 Please leave name and contact.
Appointments for a personal showing and other properties in the area. Hamilton Real Estate has over 30 years of experience and geographic knowledge for the area.
Close to the Bolivar Yacht Basin off of Boyt Rd. for Bayside Fishing. Not far from the N. Jetty and Gulf side launching.