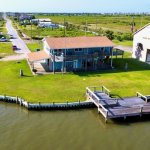 1313 N. Monkhouse:      3 Bedrooms   3 Baths on the main upper level.
Non-restricted.  Vacation Rentals are allowed.

Located in the Center of the Bolivar Peninsula in the coastal community of Crystal Beach.  Close to restaurants and retail centers. 

Short drive to the SAND AND SURF on South Monkhouse (just across Hwy. 87)   
THE views are fantastic.  Birding, Boating, big skies,

 

sunsets, this is a jewel of a LOCATION
This is a family occupied home so appointments are required.  For more information please call
HAMILTON REAL ESTATE 409-684-2000
Call or text       Suzy Chapman at 409-795-9130
                             Dana Robinson at 409-543-0116
       *  Sellers are requesting qualifying information to accompany all offers.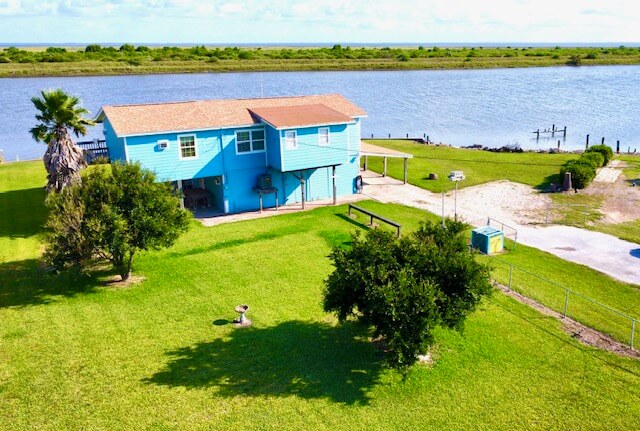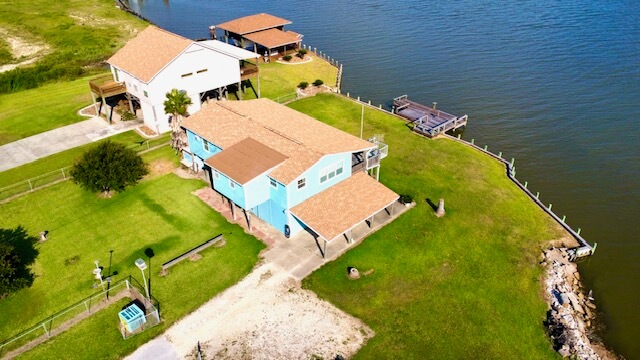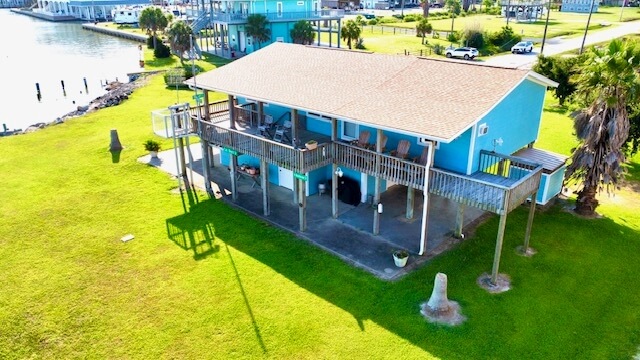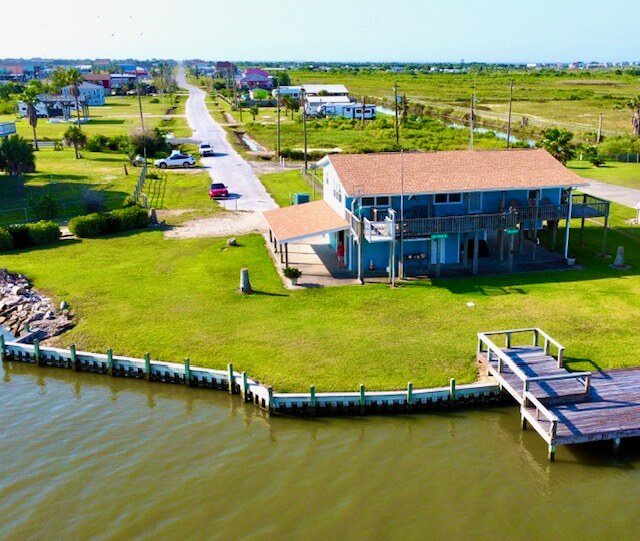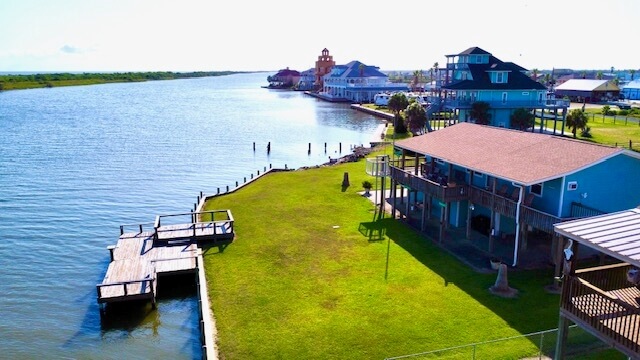 This gallery contains 14 photos.

                                                 
3 Bedroom with one master ensuite with large walk-in closet.   Views of beach from kitchen/dining/living grand room.     Full time family residence.   Appointment required.     Vacation Rentals are allowed.  Non-restricted.  Customize and make this your own.     
Great Location:
CLOSE TO BEACH.    DRIVE GOLF CART. CLOSE TO BOAT LAUNCHES.

QUICK SHOPPING TO LOCAL RETAIL.    CONVENIENCE STORE AT STINGEREE RD.

13 MILES TO GALVESTON FERRY AND 15 MILES TO HIGH ISLAND.    30 minutes to I-10 in Winnie, TX.

Easy access to Gulf and Galveston Bay Kayaking.
Utilities:         BPSUD, ENTERGY, Standard Septic.    WIFI
LOTS:     House and septic lies on both lots with 2-ea 25′ easements providing access.   Lot has side slab for utility and play/sports. No Restrictions.
Selling As Is:      Please make an appointment for preview are showing.   Upgrade and customize  for your Beaching Home.  This is currently a full-time residence.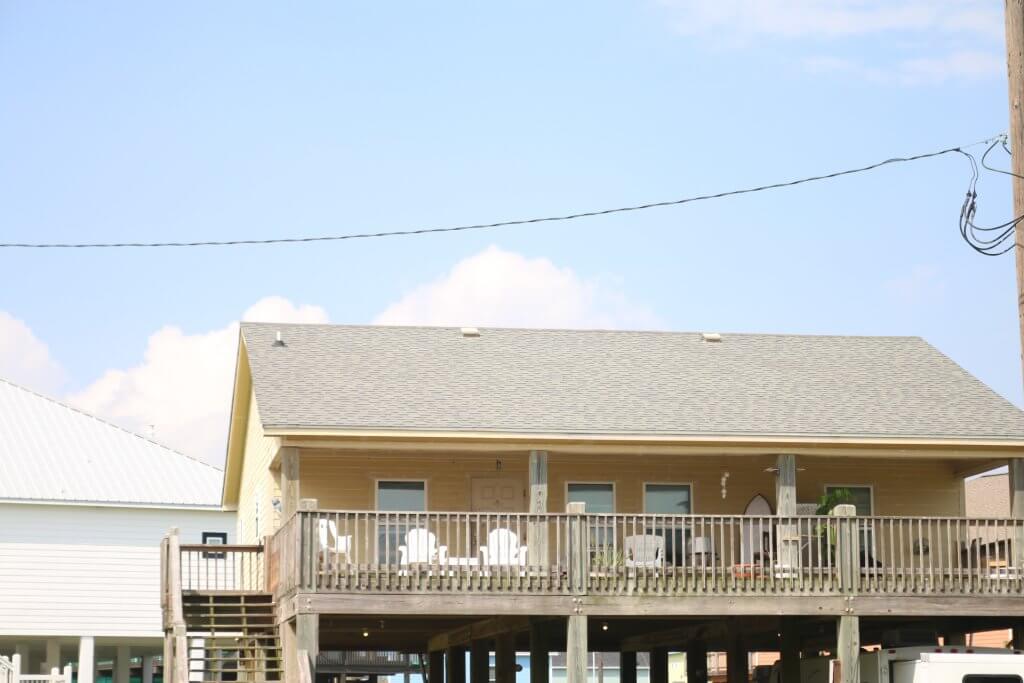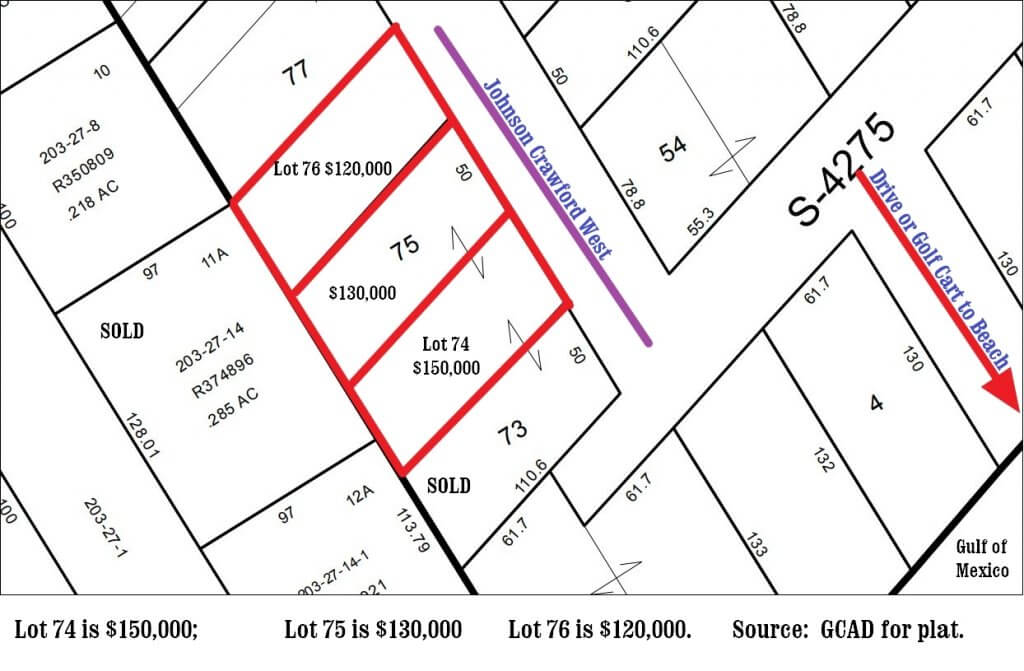 Lafitte's Landing has large lots and Golf Cart Access to the beach. Close to the retail area of Crystal Beach and Galveston Bay boat launch. Developed in the Early 80's with a vision of creating a safe and friendly community. A neighboring community for custom homes where memories can be made on the sand and surf.
The third row from the beach lots sold. They are in the original section where currently 2 new custom homes are being built. There is a newer phase that has a few lots available with some new construction. Currently there is a new section underway.
15 minutes to the Galveston Ferry to ride to the Historical Island for city conveniences. 30 miles to I-10 and Hwy. 73 for the inland area of the Golden Triangle. Easy commute to Houston Airports. Close to International Bird Watching sites, especially in the High Island area. A Fisherman's Paradise for bay or shore fishing. There is Nothing like deck sitting feeling the breeze and listening to the waves. JUST relax while watching the big sky with the birds and stars.
INFORMATION Inquiries for vacation rentals, selling, buying or other real estate needs. Working with someone that has geographic knowledge on Bolivar Peninsula.
OFFICE: Call or Text 409-684-2000
Broker: Shirley Hamilton 409-795-4400
Associate: Suzy Chapman 409-795-9130
Associate: Dana Robinson 409-543-0116
Listed by Suzy Chapman with Hamilton Real Estate.   
Appointment only. 409-795-9130 Call Suzy. Submit prequal with all offers.
Close to Anahuac but lies in Chambers County
Easy access to I-10 and Winnie
Cleared pasture acreage on Trinity Bay. Near the historic city of Anahuac. Development opportunity for subdivision, ranchette site, hunting lodge, sportsmen's paradise. Minutes for Anahuac park for boat launch. Invest in Texas on this unique tract.
Contact: Suzy Chapman: 409-795-9130,
Email: setx.hamiltonrealestate@gmail.com
Office: 409-684-2000
Broker: Shirley Hamilton 409-795-4400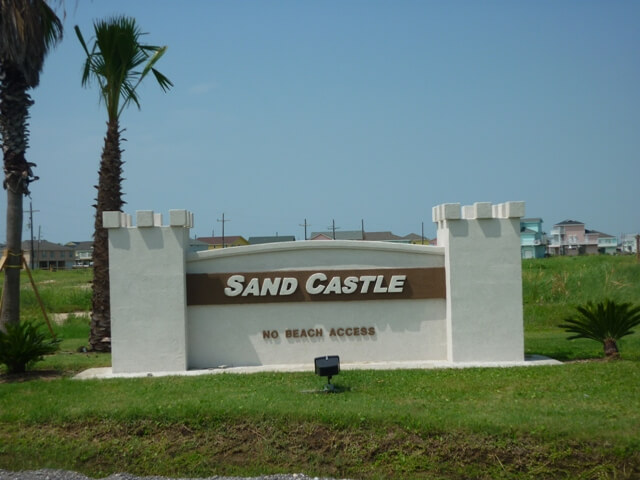 Here are some quick links for insurance and disaster resources in Texas!
Resources and key contacts
· Texas Department of Insurance: www.tdi.texas.gov 1- 800- 252-3439 – www.HelpInsure.com
· TDI Windstorm Inspection Program
· Texas Windstorm Insurance Association (TWIA): 1-877-281-1431 (English) or 1-866-443-3144 (Español).
· TWIA Claims Center: https://www.twia.org/claimscenter/
· National Flood Insurance Program: How to file a claim
· Texas FAIR Plan Association: 1-877-786-5665 (English) or 1-866-443-6738 (Español).
· DisasterAssistance.gov: Apply for FEMA help, check the status of your application, or find a hotel that accepts FEMA's Transitional Sheltering Assistance.
· FEMA – Texas Disaster Mitigation: FEMA provides useful information and offers recovery tips.
· Governor's Texas Hurricane Center · Texas Department of Motor Vehicles: Water-damaged vehicles title check
· Preventing fraud after a storm: a toolkit for city and county officials
Sharks lose thousands of teeth each year! Yet finding merely one, washed up on the Gulf shore can be a challenge. Here are some tips that can increase your chance of finding a Shark's tooth on the shore. 
Look for the mounds of shells, in low-tide right after rainfall. The greater surface of shore, the more shells that are available examine, hopefully finding a shark's tooth. Try to go when the tide is very far out, when more of the hidden piles of shells are exposed. Rainfall can also act as a natural sifter, as the raindrops separate the shells in the piles. The more shells you are able to see, the increased chances of one of them being a shark's tooth! 

Put the reticular activating system to good use! Have you ever shopped for a car, and started seeing your desired care everywhere on the highway? That is the reticular activating system working! It is the part of the brain that recognizes patterns. Get familiar with the shapes, sizes, and colors of the shark's teeth. Washed up on shore they won't look like anything from the Jaw's movie. Get familiar with the pattern you are looking for. Check out a picture of common shark's teeth found on the Gulf here:  https://www.iloveshelling.com/blog/2013/05/22/identify-your-sharks-teeth/ 

Practice Patience! The more you enjoy walking the beach, the more beach you'll cover, and the more likely to find a shark's tooth! Make the walk as enjoyable as possible. Dress for the weather, including a portable sunshade if needed. Bring a basket to collect any other treasures you might find. Have a good playlist ready and downloaded on your phone to motivate your treasure hunting! It should be a fun activity, and if a shark's tooth is not found, then you have more of a reason to return to the tide tomorrow! 
Happy hunting!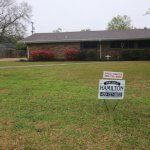 This gallery contains 31 photos.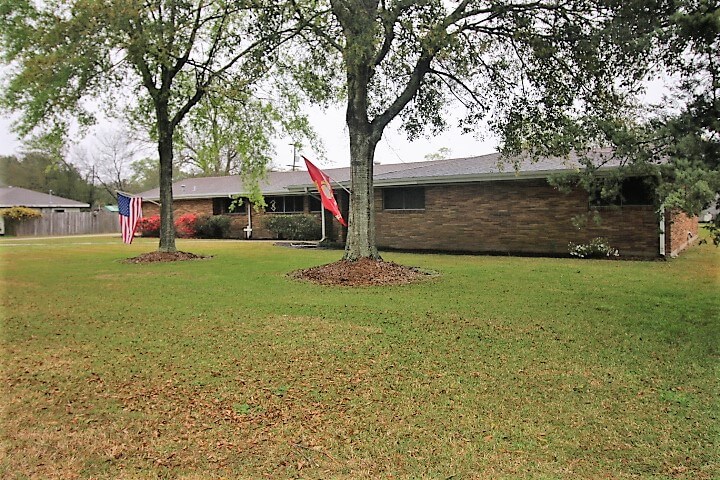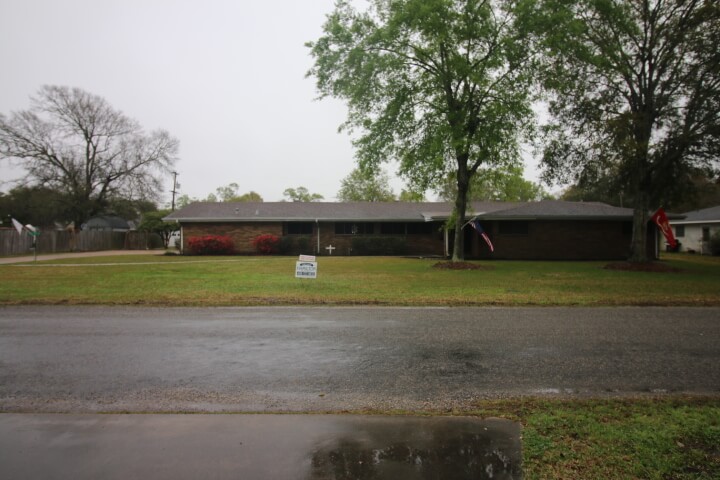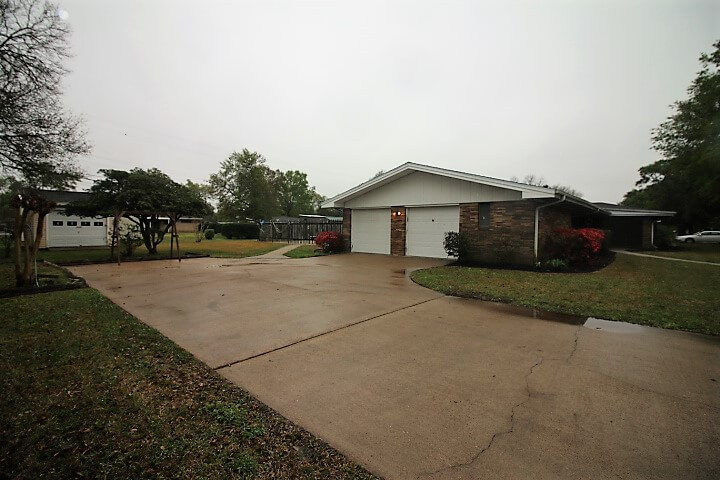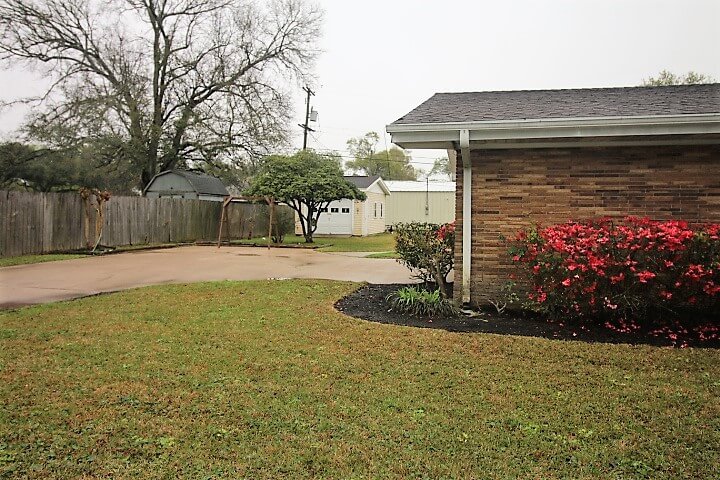 Call for information: 409-727-8832, 409-684-2000
Call or Text: 409-795-9130, 409-795-4400 or 409-543-0116.
Email: hamilton.hre@gmail.com for information in the AREA!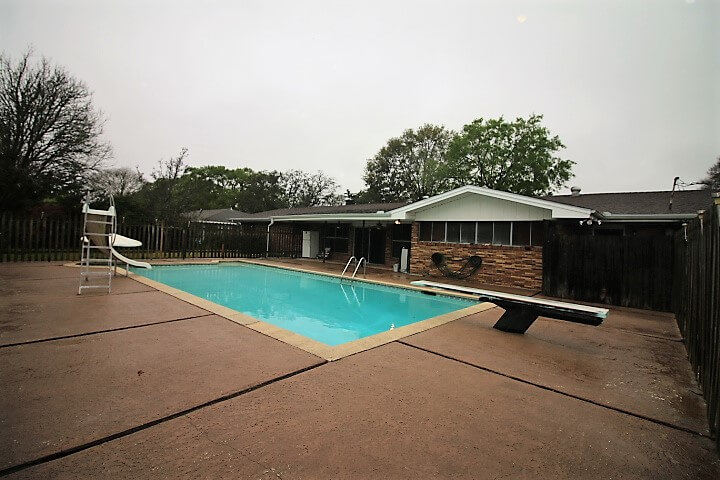 Large Bedrooms, Lots of Closets, and storage. Breakfast Room, Den, Formal dining off huge living room with fireplace. This is the place for Entertaining. Wonderful school district and close to all conveniences.